It always surprises me whenever I've spent a few hours on the motorway, that more food and drink companies don't make better use of the ad space afforded to them by their fleet of delivery lorries and vans.
In the case of an articulated lorry, you've got a difficult to ignore 48 or 96 sheet mobile poster space that provides a brilliant opportunity to provide essential brand exposure and communicate with a captive audience who have relatively few distractions – so it makes sense to use it wisely, with a creative solution that demonstrates the quality of the products or ingredients being transported and features delicious food shots and key brand messages.

Of course, some operators are doing a great job – in our opinion, the example for all food and drink companies to aspire to is that of Arla's fleet of national distribution trailers for Lurpak featuring brand messages from the "Good food deserves…" campaign and truly mouth-watering images of the perfect bacon sandwich – a well-considered, wonderfully succinct and clever use of their existing transport assets and a highly memorable example.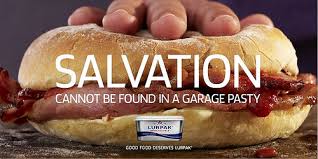 Truck-side advertising can result in some of the longest dwell times and highest viewing statistics of any form of advertising – it can reach a new audience daily and get to places where there aren't many posters – an opportunity more companies should be taking advantage of.
Now. Where can I get a bacon sandwich..?