Classic, elegant and expensive looking…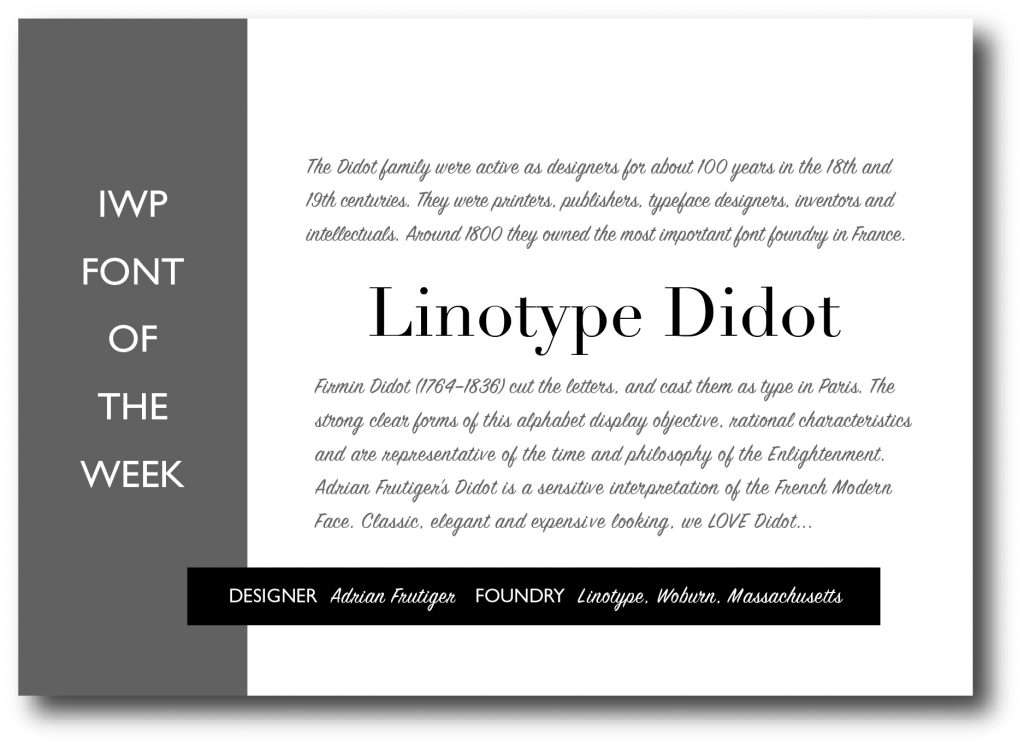 This is what lovely Wikipedia has to say…
 Didot is a group of typefaces named after the famous French printing and type producing Didot family.[1] The classification is known as modern, or Didone.
The most famous Didot typefaces were developed in the period 1784–1811. Firmin Didot (1764–1836) cut the letters, and cast them as type in Paris. His brother, Pierre Didot (1760–1853) used the types in printing. His edition of La Henriade by Voltaire in 1818 is considered his masterwork. The typeface takes inspiration from John Baskerville's experimentation with increasing stroke contrast and a more condensed armature. The Didot family's development of a high contrast typeface with an increased stress is contemporary to similar faces developed by Giambattista Bodoni in Italy.
Didot is described as neoclassical, and evocative of the Age of Enlightenment. The Didot family were among the first to set up a printing press in the newly independent Greece, and typefaces in the style of Didot have remained popular in Greek since.
The Style Network used a bold weight of Didot in its on-air identity (in addition to the News Gothic font). Alexey Brodovitch implemented the usage of Didot in Cahiers d'Art and Harper's Bazaar. Vogue has been using Didot as the typeface for their cover title since 1955.
A survey of 368 people done by writer and typographer Sarah Hyndman suggested that bold typefaces with rounder terminals appear cheaper, whereas lighter weights, serifs, and contrasts were rated as more expensive, with the modern Didot selected as the most expensive looking font.
The "CBS Didot" version of Didot was commissioned and used by broadcast network CBS for many years alongside its famous "eye" logo. While the network's use of Didot with its logo is not as prevalent as it once was, it is still a common sight, used mainly for the imaging of CBS News, the logo for CBS Corporation, and the logotype for The Late Show with Stephen Colbert. It is also used as the logotype for the credits of the CBS sitcom "Mom."