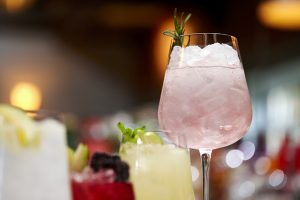 Probably the first gin cocktail invented was a simple mix of gin and Angostura Bitters. Credited to the captain and surgeon of the HMS Hercules in the early 1800s, while patrolling the Caribbean (no wonder they kept getting lost). Then followed the still-popular Pimms in the middle of the 19th century. This time period also saw Gin first mixed with lime, as a way to help combat the threat of scurvy in sailors.
In 1874, the first Tom Collins was served in London, still a popular item in any London cocktail bar – soon followed by the dry martini. Early in the 1900s saw the first Singapore Sling and the Negroni – those old fashioned gin cocktails have truly stood the test of time…
The shoot
We recently did a shoot for our delightful client (of course ALL clients are delightful – no?), Hunter's Cheshire gin.
Six delicious cocktails showing off the qualities of the gin. Among other botanicals, Hunter's contains Cheshire apples from historic Norton Priory garden's own orchard. It's this clever twist that gives Hunter's premium export strength gin a spicy fruity edge.
The unique flavour comes from the botanicals – including punchy, piney juniper from the Balkans, French angelica, Cinnamon bark from Madagascar, musky, nutty angelica root from France, ribbons of Spanish lemon peel and Florentine orris root.
Hunters is a premium gin placed among the top division of world-renowned gins.
Careful who you mix with…
Created by Hunter's talented mixologist Louis, the Hunter's cocktails were designed to deliver the special taste of their gin. It's a single batch distillation from a 300 year old recipe.
We shot six – Truly Hunters, Mr Hunter and Mr FitzPatrick, Hunters Cheshire Champagne, Tom Collins, Hunters Apple Bramble and a Hunters Gin Martini.
And no, the Art Director didn't get to drink them (that's what HE said)…