We are big fans of the street food movement that's been taking the UK by storm and changing the way we eat out over the past few years. One of the most well-known street food brands has been the hugely successful Street Feast set up by Jonathan Downey and Dominic Cools-Lartigue.
Jonathan is now embarking on a new venture, London Union, in partnership with Henry Dimbleby; the co-founder of healthy fast-food chain Leon, which aims to set up a number of pop up street food markets in London's empty spaces and has the ambitious plan of creating the world's greatest food market in a permanent location in central London. To help it achieve this, London Union has acquired the Street Feast brand and has garnered the backing of an impressive group of top chefs, restaurateurs and food writers, including some very well-known names.
We caught up with Jonathan to talk about his love for street food and his plans for London Union.
Hi Jonathan, how are you?
I'm good thanks, I've just had a very long lunch at the Clove Club in Shoreditch; it was fantastic. It's a fantastic modern British restaurant set up by chef Isaac McHale and his two front-of-house friends. It got a Michelin Star the year it opened, in the national restaurant awards last year it was the second best restaurant in London and it got to number 55 in the World's best restaurant's 2015 list. It's a really good place to eat and has a nice vibe.
It sounds great. We'll have to visit it next time we are in London.
It's worth it – it's up there amongst the top restaurants in London.
So, what inspired you to set up Street Feast in the first place?
Actually, my friend Dom set it up and then he came to me after a few months to help him run the bars and help turn it into a proper business. He used to promote a club night at one of my venues in Shoreditch, a nightclub I had called Sosho, so I'd known him for about a decade.
We were both doing different street food things at the time, so we got together and it turned into a phenomenon in a very short space of time. I like the idea of helping new, small businesses get going. Rather than them having to spend a fortune on a bricks and mortar restaurant with all the hassles and aggravations that brings, it's better if they can just set up a street food stall or a street food truck and get going. I really like the energy of it and enjoy supporting that sort of business.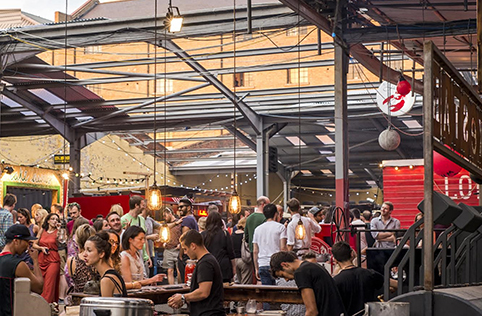 So it's all about supporting grass roots innovation in food and supporting people who are passionate about what they do?
Yes, and if they are good, they can become successful very quickly; you aren't sat waiting for a restaurant reviewer to come and review you, criticise you or give you praise – it's all about what the customers think.
How do these businesses scale up from there then?
I don't think they need to; we've got three sites – Dalston, Shoreditch and Lewisham and four of our traders are at all three sites and they're making much more money that way than if they had their own restaurants.
Some guys really want to go indoors and open their own places, but it will be a real shock for them with all the things you need to deal with and all the costs you have to incur when you run your own restaurant. Others are really happy just staying on the street. Opening a restaurant is a really good way to lose a lot of money and very few people really make it work.
Do you think that street food is the future of eating out then?
I think it's one aspect – it's better for some vendors than others. It's good to have a bricks and mortar base somewhere but that doesn't necessarily need to be a restaurant. In the end it depends on what food you are selling, what kind of lifestyle you want and what you are good at. If you are good at process and dealing with bureaucracy, maybe a restaurant is something that you can make work, but if you want a bit more fun out of life, I don't think you need to go down that route.
So how did the idea for London Union come about?
We were doing all of these seasonal Street Feast events on Friday and Saturday nights; they were a temporary thing on a 2 or 3 year lease, but I really wanted to do something on a more permanent basis. If you go to the Boqueria in Barcelona, it's a pretty spectacular market but London doesn't have anything like that. It's got Borough Market but it's too busy and for me, there's not a lot there that I am interested in. Our plan is to create the world's greatest food market here in central London in a permanent location, and to be able to achieve that, we needed the support of our founder shareholders.
My business partner, Henry Dimbleby and I looked at who we knew in food writing and broadcasting and the chefs and restaurateurs we knew in London who we could join forces with. The idea was to create a powerful and influential group of individuals to give us the weight to push through our plan (backers include Jamie Oliver, Nigella Lawson, Yotam Ottolenghi, Tom Parker-Bowles and Giles Coren amongst others).
It's certainly an impressive line-up!…
Yes, exactly – it's great and it makes life a little easier having those guys on board.
So how is it all coming together?
We launched on May 1st and London Union owns Street Feast, Dinerama and Model Market and we've got 3 more sites opening in the autumn. We are working on our mega market project and future smaller markets. All of our spaces are very individual and very different so they will all have their own individual brands to give them authenticity rather than being promoted under the London Union brand.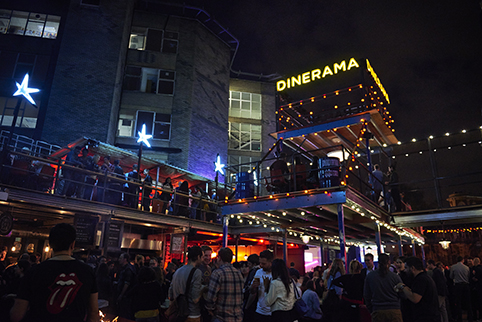 So how will you market to customers in the UK?
Whenever we open a new site, it will be like opening a new standalone restaurant rather than part of a chain, with local marketing, digital and social media. The whole business is built upon digital and social, particularly twitter and Instagram – that's where our customers are.
Our audience is across a wide age range but our core audience is in the 20 – 35 age bracket, with definitely more women than men – women seem to be more switched on to what's new and what's next and there are more female foodies. I'd say that our audience is around 60% female.
As we've been talking about street food, what's your favourite type of street food?
I'm a big fan of Breddos Tacos – they do fantastic flavours and some really innovative, non-authentic Mexican food – it's evolved to be better than the original! I love Yum Bun. They do these Gua bao steamed buns with fantastic fillings, and I really enjoy Smokestak barbecue – they do fantastic beef brisket and ribs. Those guys are three of our best traders.
Do you have any advice for readers who might be thinking about developing a street food offering?
There's definitely a lot more room for people to move into street food but there's a tendency for everyone who's new to it to try and do something that's never been done before, but I don't think it's necessary to come up with something new and reinvent the wheel each time. There aren't many great burgers on the street, there's not enough seafood and there's not enough steak – so anyone doing any of those well would really stand out at the moment. The key is to find something that you are really into and make it work. I've also noticed that customers like to graze rather than getting one massive meal from one trader so that's something to think about, and ensuring quality and consistency is absolutely crucial if you want to succeed.
IWP would love to get involved with any projects that might be under consideration – no matter how early or how vague… Our ideas drawer is overflowing and our appetite for food and drink marketing is matched only by our enthusiasm for developing new, exciting and engaging opportunities in this fast growing sector.
You can find out more about London Union's Street food markets at http://www.streetfeastlondon.com/ or by following @StreetfeastLDN on twitter.