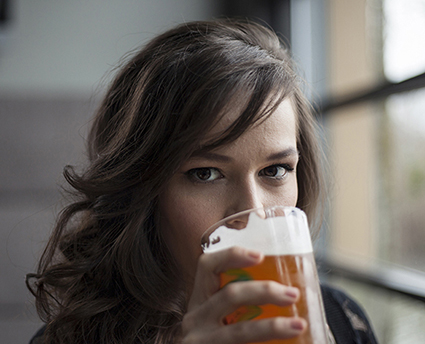 There has been a lot of talk since the start of the craft beer boom of it being a mere 'bubble' – a short lived trend that will go the same way as the cupcake craze, but here at IWP, we're not so sure. We think that the craft beer boom still has a long way to go, and will continue to gather pace for some time yet.
Fastest growing segment
Craft and locally produced beer is one of the fastest growing segments in the UK's food and drink market with 361 new microbreweries opening in 2014/15 – that's 25% more than the 291 new concerns in 2013/14 – a significant acceleration in growth.
So what's driving this boom? Well, largely, it's down to the growing consumer demand for quality, local beers with genuine provenance and the growing disillusionment with bland, mass-produced products from the global brewing conglomerates.
Counter-intuitively, it's the recession that sparked this demand for something better. As Emma Cole who manages the new Craft Beer Co in Brighton says "People don't have as much money so they go to the pub less, but when they do go out, they want something different and better than the usual. Our clientele is aged 25 to 45, settled down but with a bit of money to spend. They're the kind of people who think about what they buy, especially when it comes to food and drink."
Attractive profit margins
As a boutique and increasingly aspirational product, craft beer commands a higher price than the mass produced alternatives, allowing microbreweries to compete financially with the large conglomerates – and with a recent survey by Peach Reports showing a desire amongst consumers for an even greater range of products, there's plenty of room for further growth in the sector.
Firmly established
The new wave of British beers is firmly established to such a point that craft beer is now included in the basket of goods used to calculate inflation and you'd have to go back more than 70 years to find as many breweries in the UK as we have now. The consumer preference for newer, more flavoursome beers is unlikely to subside any time soon and craft brewing ticks all the boxes of the foodie revolution of the past 20 years. As Bob Pease, chief of America's Brewer's Association says: "Are people going to go away from drinking good coffee, or better cheese or better bread?… in the US people aren't going back to drinking freeze-dried coffee. We don't think there is going to be a craft beer bubble bursting." In fact, Bob thinks that craft beer could account for 20 to 30 per cent of the US market in time and we've no reason to think things will be any different in the UK.
Craft beer bubble due to burst? No chance!