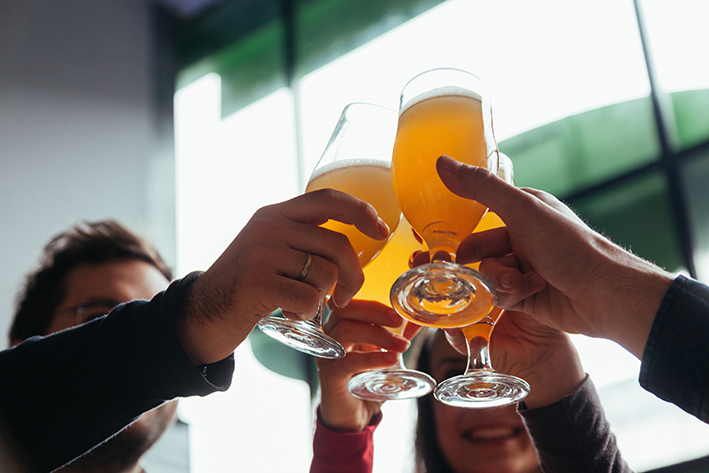 In an ever more congested market, it's essential for craft brewers to develop strong, original brands
Craft beer is one of the fastest growing segments in the UK food and drink industry with over 600 new breweries opening since 2013, driven by budding consumer demand for something more flavoursome and exciting than the usual mass produced offerings from the big breweries. Sparked by the recession, the craft beer revolution has seen the emergence of a new generation of young brewers re-inventing beer as we know it with an incredible variety of weird and wonderful flavours, styles and brands.
Standing out from the crowd
When the craft beer boom first started, there was a perception that being passionate about producing exciting and experimental beers would be enough to drive demand, and visual identity was treated as something of an afterthought. In the early days, this wasn't an issue, given that the only people buying craft beer were the true beer geeks. Now the craft beer drinking demographic is much broader and more varied than ever before.
Alongside this, there's also a growing threat from the major brewers: many of them are waking up to opportunities created by the craft beer revolution and are starting to respond by buying up craft brewers such as Meantime and Camden, or by launching their own "craft-style" offerings. With their monopoly on shelf space in the major multiples, there's limited room for smaller labels.
Producing great beer isn't enough on its own anymore: it's absolutely essential for craft brewers to embrace high quality, well thought-out and considered brand and packaging design if they want to survive and thrive in the long-term. The design of your labels can be the difference between a consumer picking your beer off the shelf or not.
Top 4 tips for craft beer design
Your design should tell your story instantly
Creativity and innovation is the driving force behind the boom in craft beer, so it makes sense for that to be reflected by the packaging design. A good design team will be able to get under the skin of the business and become ingrained in the culture of the brewery. They will be able to come up with visual cues, unique to your brand that creatively express the character and personality of the brewery, the authenticity, the provenance and the style of the beer. Good design will get your story across to the customer instantly.
The balance between adventure and security
In the craft beer market, there is a level of tension at the point of purchase between adventure and security; by definition, the craft beer drinker wants to try something new and different – dissatisfaction with insipid mass produced beer was the catalyst that sparked the craft beer revolution – but they also want a level of reassurance regarding the quality of the product.
In our view, this is where some craft beer brands fall down – it doesn't matter how great your beer tastes – if your packaging looks amateurish, it risks raising concerns about quality, especially with customers who are new to the sector. If your packaging is too safe and traditional, you risk being seen as boring and won't appeal to drinkers who are after a new experience. Just be aware though, if you go too far the other way with a totally wild and off the wall design you might stand out, but it's not going to do you much good if people don't already know your brand or if it's not clear that it's a beer.
Good design can help you achieve this balance – bold and original labels will set you apart from your competitors and help you stand out on shelf with the reassurance that the beer tastes as great as the label looks.
Think about how it looks from afar 
Visual identity needs to communicate from a distance – if your beer is in a bar, chances are that it's going to be in a fridge behind the bar, and the customer is going to be viewing it from 6 feet away. Your design needs to be eye catching and inviting enough to stand out but clean enough that viewed from a distance, the key information on the label can still be seen. There's been a move recently away from overly busy beer labels towards those that are cleaner, simpler and easier to read.
In an ever more congested market, it's essential for craft brewers to develop strong, original brands
More beer is now drunk at home than pubs and bars, so good design is about more than just pump clips and bottles. With the growing popularity of sharing bottles, growlers, and a move to canned beers, your visual identity needs to work across different packaging options. Of course, this is something a good designer will have in mind right from the start.
Conclusion
Obviously the quality of a beer is vital for it to succeed – if it doesn't taste right, no one is going to want to drink it, but a great beer in poor packaging isn't going to do very well either. Great design for craft beer brands is essential for their success in an ever more crowded market place – a good design team will take all that is unique about your beer brand and translate this into a distinctive, bold and original visual identity that tells your story and stands you apart from your competitors.
For help with your beer branding challenges contact Steve Whitehouse.